I bought this hoya as a rooted cutting in May 2002 from Botanova. I had seen photos of the cool flowers so this was one hoya that I just HAD to have! The name that came with my little cutting was H. waymaniae 1 - whatever that number 1 stands for or if it even has a meaning? Anyone out there who knows...?
It grew nicely at first, but after a while the leaves started to feel soft and it looked like the whole plant was going to die. Being a newbie I took a nice cutting from it and started over again... At that time I threw out what I didn't use myself and at that time I also thought most of the plant was dead anyway! The new cutting rooted and today it's quite a large plant. It has gotten soft leaves a couple of times after that first time, but I don't pay much attention to it at first. It usually perks up again, but looses some leaves... In other words; this is a fuzzy hoya!
I almost missed the long peduncle at first - though I don't see how you can miss a 13 cm long peduncle among the not so thick foliage?!?! The peduncle had tiny buds when I found it in September 2005 and I think I checked the buds at least once a day. Finally I got to see the cool flowers, but they opened at 10.30 at night when there's no good photo light at all... What do you do then? Well, you take that big plant and put it in your sink, turn on the halogen spot lights above the sink and to be able to take a photo you have to stand bent like an upside down U and if anyone saw me that night I'm sure they're convinced that I'm not "normal". What don't you do for your hoyas? The flowers COULD have fallen off during the night... They were still there the next day and I took lots and lots of photos of them!
To view any of the pictures on this page bigger, click on them and they will open up in new windows.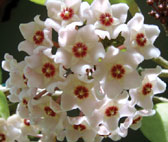 Read about how it all started
Why did I start collecting hoyas?

Private hoya links
Check out some of my favourite private hoya links from all over the world

Public hoya links
Here you will find public sites from all over the world, places to buy hoyas from etc.

Hoya forums
Here you will find links to different hoya forums on the internet.

Other great links
Here you will find links to search sites, garden sites, fun sites, crazy sites, and other "useful" sites.