I bought this hoya as an unrooted cutting in May 2007 from Paul Shirley in Holland. At the same time I bought a cutting of Hoya sp. GPS 7-35 and they were easy to tell apart so I cut them up and potted them together in the same pot. They grew well together, but no flowers... I left them together since I didn't have much hoya space left and was about to move from house to a smaller apartment. They kept growing, but still no flowers.

In November 2009 I moved to a house again and the two hoyas were still potted together until summer 2010 when I split them up. After that it didn't take long before it bloomed for the first time in September 2010. This seems to be a hoya that once it starts blooming it never stops! The flowers are so cute and the butter scotch fragrance can fill a whole room... I believe this is a variety of Hoya incurvula, but I'll leave it here as it is.

To view any of the pictures on this page bigger, click on them and they will open up in new windows.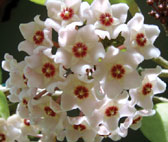 Read about how it all started
Why did I start collecting hoyas?

Private hoya links
Check out some of my favourite private hoya links from all over the world

Public hoya links
Here you will find public sites from all over the world, places to buy hoyas from etc.

Hoya forums
Here you will find links to different hoya forums on the internet.

Other great links
Here you will find links to search sites, garden sites, fun sites, crazy sites, and other "useful" sites.