I bought this hoya as an unrooted small cutting in September 2012. The leaves looked really nice in photos I had seen so I wanted this one. It rooted well, but it is among the slowest growers I've ever had. At least where it is right now - under the grow lights in the Hoya room in the basement. It is today (April 15th 2014) more like a longer rooted cutting.

However, perhaps I shouldn't complain about growth speed or size because it compensates for this by blooming in April 2014. Really sweet very pale pink flowers with a wonderful fragrance!

To view any of the pictures on this page bigger, click on them and they will open up in new windows.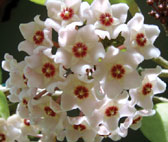 Read about how it all started
Why did I start collecting hoyas?

Private hoya links
Check out some of my favourite private hoya links from all over the world

Public hoya links
Here you will find public sites from all over the world, places to buy hoyas from etc.

Hoya forums
Here you will find links to different hoya forums on the internet.

Other great links
Here you will find links to search sites, garden sites, fun sites, crazy sites, and other "useful" sites.