I bought this hoya in September 2006 from Australia. I also traded a cutting in July 2007 to get a bigger plant faster... It was quite a success, but it didn't seem to like moving in the summer of 2008. It didn't grow at all. Instead I found two peduncles and it tried to bloom, but the buds fell off when they were small... until one day in May 2009 when it developed buds on both peduncles and they grew and grew and grew... Well, the result can be seen below. A really gorgeos hoya in my opinion!
To view any of the pictures on this page bigger, click on them and they will open up in new windows.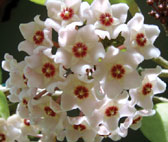 Read about how it all started
Why did I start collecting hoyas?

Private hoya links
Check out some of my favourite private hoya links from all over the world

Public hoya links
Here you will find public sites from all over the world, places to buy hoyas from etc.

Hoya forums
Here you will find links to different hoya forums on the internet.

Other great links
Here you will find links to search sites, garden sites, fun sites, crazy sites, and other "useful" sites.