I bought this hoya from a private grower in April 2007. The cutting was unrooted, but rooted fast. Unfortunately I didn't have any good space for it so it stood a bit dark, but it grew a little anyway. I could only dream of flowers since it stood so dark. When I moved to my apartment in June 2008 I first thought I was going to sell my little plant / bigger cutting, but since it hadn't bloomed and I was curious of the flowers it stayed. The place it got was as dark as before so it continued to grow slowly...

Then when I moved to a house again in November 2009 I put it in a window and it started growing very well in the spring of 2010. A year later (spring 2011) I cut it in two pieces and rerooted it to get an even plant and one of the two larger cuttings has grown really well and the other one has been more "slow". My plant bloomed for the first time in April 2012 and since then it has more or less bloomed constantly. The flowers turned out to be "just" wayetii type, but they are really nice and the butter scotch smell can fill a small room.

To view any of the pictures on this page bigger, click on them and they will open up in new windows.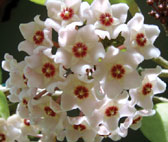 Read about how it all started
Why did I start collecting hoyas?

Private hoya links
Check out some of my favourite private hoya links from all over the world

Public hoya links
Here you will find public sites from all over the world, places to buy hoyas from etc.

Hoya forums
Here you will find links to different hoya forums on the internet.

Other great links
Here you will find links to search sites, garden sites, fun sites, crazy sites, and other "useful" sites.