I got this hoya on May 17 2006. I noticed it on a Hoyatrip (sounds exciting doesn't it? It was here in Sweden) about a month earlier and I fell instantly in love with the big leaves. The guy had no cuttings available but I e-mailed him and ordered this and one other hoya. The cutting had two gorgeous leaves, but I'm only showing one... It was unrooted and it took a while before it started growing, but it did and seemed to want ot become a big plant and it even developped a peduncle and tiny buds... until one day when it started yellowing and died.
I went to a Hoya meeting in Varberg on May 28th 2011 and when I got there I noticed this nice rooted cutting and it seemed to have been "waiting" for me to take it home and so I did five years after the first one moved in and they both come from the same place. In only about one month it has grown well and new leaves are nicely red - for a while... This time I WILL get it to enjoy lift in my care and hopefully get it to bloom. As far as I know I don't know anyone who's had it in bloom... and there are very few photos of it on the internet.
To view any of the pictures on this page bigger, click on them and they will open up in new windows.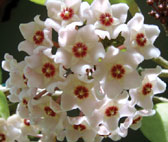 Read about how it all started
Why did I start collecting hoyas?

Private hoya links
Check out some of my favourite private hoya links from all over the world

Public hoya links
Here you will find public sites from all over the world, places to buy hoyas from etc.

Hoya forums
Here you will find links to different hoya forums on the internet.

Other great links
Here you will find links to search sites, garden sites, fun sites, crazy sites, and other "useful" sites.