This is a hoya that I decided to buy from Paul Shirley in Holland. First I thought I had enough different Hoya australis, but in the end I ordered also this one... I received it beginning of May 2007 and the thick quite long leaves were a surprice and I was glad I had bought it! It took forever before it rooted and then it grew a little, almost died and I had to root new cuttings, grew a little and this is how it continues... I think I'm at my 4th or 5th re-rooting right now... boring hoya!

I would guess the flowers will be the same as for the rest of the Hoya australis, but it would be nice to see them some day...

To get back to australis, click here:

To view any of the pictures on this page bigger, click on them and they will open up in new windows.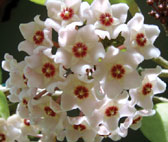 Read about how it all started
Why did I start collecting hoyas?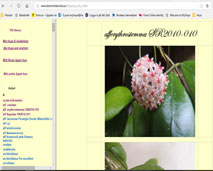 Private hoya links
Check out some of my favourite private hoya links from all over the world

Public hoya links
Here you will find public sites from all over the world, places to buy hoyas from etc.

Hoya forums
Here you will find links to different hoya forums on the internet.

Other great links
Here you will find links to search sites, garden sites, fun sites, crazy sites, and other "useful" sites.