The leaves of this hoya are quite a lot bigger than the regular carnosa, or at least they were on the plant where I got it from. That huge plant was the reason for me wanting a cutting. The leaves are absolutely gorgeous! They are about 7-12 cm long and 4-7 cm wide and have quite a few flecks, lighter flecks than on other carnosas... They actually look like white freckles, just like the name says. However, if this is a valid name or not I don't know... Whatever the case is, it's a nice hoya even though it's "just" another carnosa!

I got this hoya as an unrooted cutting in September 2008 and since it rooted it has qrown quite well, but the leaves are not as big as on the mother plant. The first years I grew it in quite a lot of sun, but the past two years I've grown it in bright light and no sun and the and the leaves on my plant are now getting darker edges and they also seem to get bigger.

My plant bloomed for the first time in May 2010 and since then it has bloomed a lot. The flowers may not look different from the regular carnosa, but they are a lot whiter and when you compare it looks a lot more like fungii...

To get back to Hoya carnosa, click here:

To view any of the pictures on this page bigger, click on them and they will open up in new windows.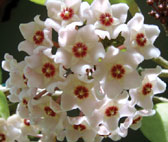 Read about how it all started
Why did I start collecting hoyas?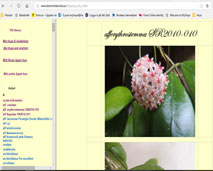 Private hoya links
Check out some of my favourite private hoya links from all over the world

Public hoya links
Here you will find public sites from all over the world, places to buy hoyas from etc.

Hoya forums
Here you will find links to different hoya forums on the internet.

Other great links
Here you will find links to search sites, garden sites, fun sites, crazy sites, and other "useful" sites.