I bought this hoya in October 1999. The pot had three rooted cuttings in it and it seemed to be a hanging plant. However, I had no more room for a hanging plant so I started to tie it around a trellis and I'm still doing that! Someone once told me that I had a well-behaved cumingiana, but to keep the plant good looking I had to renew it a couple of times when too many of the bottom leaves had fallen off. The foliage on the plant I used to have got really nice and thick, but the sad "lack-of-hoya-space" after moving made me sell this plant.

My cumingiana flowered for the first time in July 2000 and this is absolutely one of my favourite hoyas when it comes to flowers. Nice colour combined with a pleasant not overpowering fragrance. Sometimes the buds turned red in the sun and the flowers gott a red hint... lovely!

Late in the fall of 2009 I found a small plant in a flower shop and couldn't resist buying it. It had some bugs, but after I won that battle the plant started growing like crazy and flowered late in the summer of 2010. Now in May 2011 it's almost the same size my old plant was and all that's missing now are some more flowers!

To view any of the pictures on this page bigger, click on them and they will open up in new windows.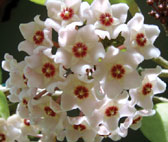 Read about how it all started
Why did I start collecting hoyas?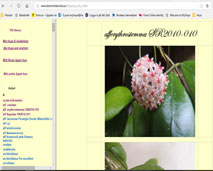 Private hoya links
Check out some of my favourite private hoya links from all over the world

Public hoya links
Here you will find public sites from all over the world, places to buy hoyas from etc.

Hoya forums
Here you will find links to different hoya forums on the internet.

Other great links
Here you will find links to search sites, garden sites, fun sites, crazy sites, and other "useful" sites.