I got this Eriostemma from Hawaii at the end of August 2005. It was a nice size cutting or rather a looong one. I cut it up and potted the cuttings in small pots. One moved to Finland soon after it had rooted. I kept two cuttings for myself and both of them are growing really well in our southern window and if that's not a good place for an eriostemma...
After I found out that my Hoya coronaria was an Eriostemma, I didn't want any other Eriostemmas since they are so hard to get to bloom and I doubt that I will EVER see flowers on any of my Eriostemmas. I now have 11 of them, including this one. I was persuaded to get this one because it's said to be the easiest of all the Eriostemmas to bloom. Time will tell if the lady is right or not. I just hope she's still around when my plant flowers... It sure grows like a weed!
To view any of the pictures on this page bigger, click on them and they will open up in new windows.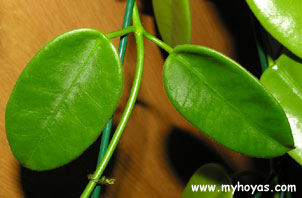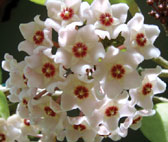 Read about how it all started
Why did I start collecting hoyas?

Private hoya links
Check out some of my favourite private hoya links from all over the world

Public hoya links
Here you will find public sites from all over the world, places to buy hoyas from etc.

Hoya forums
Here you will find links to different hoya forums on the internet.

Other great links
Here you will find links to search sites, garden sites, fun sites, crazy sites, and other "useful" sites.