I bought my flavida in May 2011 and the cutting that arrived was very generous and could be cut in two. I like having two cuttings in each pot so this was perfect. It rooted quite fast, but didn't grow much in the beginning. The first couple of years it had to stay in our basement, but eventually it had become big enough to move to our dining room window where there is plenty of sun - when it's sunny that is. A hoya with wonderful foliage!
It took three years before the flowers showed up, but they were sure worth waiting for. Absolutely beautiful flowers opened in July 2014 and since the summer was very sunny the flowers were more red than orange as they are supposed to be - so to speak. Since then it has bloomed one more time and then the flowers were more "normal" orange. Even the buds are gorgeous!
To view any of the pictures on this page bigger, click on them and they will open up in new windows.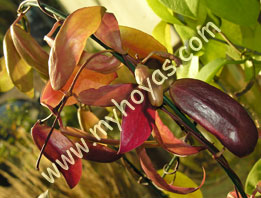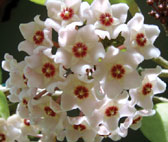 Read about how it all started
Why did I start collecting hoyas?

Private hoya links
Check out some of my favourite private hoya links from all over the world

Public hoya links
Here you will find public sites from all over the world, places to buy hoyas from etc.

Hoya forums
Here you will find links to different hoya forums on the internet.

Other great links
Here you will find links to search sites, garden sites, fun sites, crazy sites, and other "useful" sites.