I bought this hoya on a hoya gathering in June 2010. I had heard about it for a while and when I now had the chance of buying an unrooted cutting I just had to do it. It wasn't the easiest hoya to get started... oh no, it rooted quite fast and then nothing happened for more than six months. It didn't start growing until early in the spring of 2011, but then it didn't grow very fast! I thought with this growth speed I could only dream of flowers...
When the hoya room in our basement was done in mid October 2011 all the smaller hoyas moved in there and among these was my little griffithii and guess whether it liked the warm / humid days under the growth lights and the much cooler nights without lights. It started growing fast and one vine grew straight into neighbouring hoyas and less than two months after it moved into the hoya room I discovered small green buds and this was on December 1st. I thought the flowers would be open for Christmas, but nothing happened until December 29th when the 2 first buds opened and what a wonderful fragrance that met me when opening the door to the hoya room that night! The day after 4 more buds had opened and all 6 were open on New Years Eve. What a wonderful "end" to a very good hoya year!
To view any of the pictures on this page bigger, click on them and they will open up in new windows.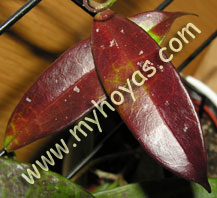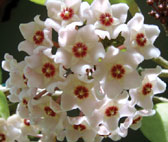 Read about how it all started
Why did I start collecting hoyas?

Private hoya links
Check out some of my favourite private hoya links from all over the world

Public hoya links
Here you will find public sites from all over the world, places to buy hoyas from etc.

Hoya forums
Here you will find links to different hoya forums on the internet.

Other great links
Here you will find links to search sites, garden sites, fun sites, crazy sites, and other "useful" sites.