I got this hoya from Australia in September 2006 and also then there were discussions about what this hoya should be called. After a few e-mails back and forth with David Liddle this hoya was also named aff. hellwigiana IML 1101 but once again in May 2007 he told me this should be just hellwigiana without the aff. The leaves on the cutting didn't look like the leaves on my other little plant, but there might be more than one hellwigiana IML 1101? It took a while before it rooted, but in April 2007 it started growing. New leaves get a nice red tint from the sun... The plant has grown quite large and almost all the leaves have turned red from the sun. The buds are also red and the flowers are very pottsii like, just like on my other hellwigiana...

To get back to Hoya hellwigiana, click here:

To view any of the pictures on this page bigger, click on them and they will open up in new windows.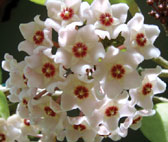 Read about how it all started
Why did I start collecting hoyas?

Private hoya links
Check out some of my favourite private hoya links from all over the world

Public hoya links
Here you will find public sites from all over the world, places to buy hoyas from etc.

Hoya forums
Here you will find links to different hoya forums on the internet.

Other great links
Here you will find links to search sites, garden sites, fun sites, crazy sites, and other "useful" sites.