I bought this hoya as a fairy large rooted cutting at a small exhibition in January 2003. I knew I didn't have room for it, but I just had to have one. It's a hoya that needs a lot of space and the new vines are almost impossible to bend around the support, but you need to do this early as the vines stiffen fast and break easy. I've done it several times!

My imperialis grew its first peduncle already in October 2003, but nothing happened so I forgot about it. Others say this is a fast growing hoya, but mine isn't and I'm quite happy about that. In the beginning of March 2004 I noticed that the peduncle had grown and I could already count 9 buds. I checked them every day, but all they did was grow bigger and bigger... Until Thursday May 5th 2004 when I came home from work and one flower was open. It was an impressive flower measuring 9 cm. I think I checked the rest of the buds at least 25 times before going to bed that night, but only one flower remained open... The next morning it was still only one, but when I came home from work that day all nine flowers were open and I just had to take lots of photos of them. It was an impressive sight, but I couldn't help being a little disappointed that these beautiful flowers didn't have any fragrance. I had read this in books and on the internet, so I was really surprised when I came down into the kitchen the morning after and the whole kitchen was filled with a wonderful vageu smell that closest could be compared to gardenia.

The flowers took almost eight weeks before they opened, but they were well worth waiting for! They looked lovely a little more than two weeks, then they started to shriwel up and on day 24 they had fallen off. During 2004 it flowered 4 times and the first time the flowers were dark and the last time in October they were much paler... During 2005 my plant grew a lot and flowered only once and that was in September the same year and the flowers were really pale, but oh so cool!

To view the development of the buds, click here:

To view any of the pictures on this page bigger, click on them and they will open up in new windows.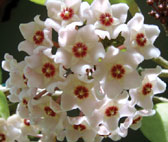 Read about how it all started
Why did I start collecting hoyas?

Private hoya links
Check out some of my favourite private hoya links from all over the world

Public hoya links
Here you will find public sites from all over the world, places to buy hoyas from etc.

Hoya forums
Here you will find links to different hoya forums on the internet.

Other great links
Here you will find links to search sites, garden sites, fun sites, crazy sites, and other "useful" sites.