I bought this hoya as a rather large plant in September 2002. It grew to almost double in size by branching in less than one year. It flowered almost right after I got it home and I don't remember that it was ever without flowers. The only bad thing was the mess the flowers made...

Unfortunately my plant developed small black spots on the leaves and I couldn't seem to stop them from coming. The plant was beyond help and I ended up throwing it out in November 2003.

In July 2004 I found a new healthy rather big plant in full bloom and I had much more luck with this plant. It grew well and flowered like crazy! However, due to limited space in my windows I decided that this plant should move to my brother... So, now it's thriving in his house and making quite a mess on the window board!

In September 2010 I started a rather big project where I potted several hoyas together in three levels and among these hoyas is a new cutting of javanica and there are already two umbels on the way so it seems my project is a success?!!

It's said that the hoya so often sold as Hoya multiflora isn't multiflora. It should be called Hoya javanica... It's a jungle of hoya names! *sigh*

To get back to Hoya multiflora, click here:

To view any of the pictures on this page bigger, click on them and they will open up in new windows.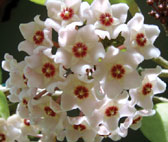 Read about how it all started
Why did I start collecting hoyas?

Private hoya links
Check out some of my favourite private hoya links from all over the world

Public hoya links
Here you will find public sites from all over the world, places to buy hoyas from etc.

Hoya forums
Here you will find links to different hoya forums on the internet.

Other great links
Here you will find links to search sites, garden sites, fun sites, crazy sites, and other "useful" sites.