I bought this hoya as a rooted cutting in July 2011 from Thailand. I had seen photos of the lovely red foliage and the pink flowers on the internet and this was a hoya I just had to have! When the cutting arrived the leaves were dark green and very nice and at first my plant (I cut the cutting in three pieces) in rather low light without sunshine and the leaves remained "just" green and nice.
When my Hoya room in the basement was done I moved all my smaller cuttings in there and among these was little 'Rebecca'. It didn't take long before the first new reddish leaves showed up and as it grows the foliage gets prettier and prettier. The new really red leaves get less red the older they get, but it's still a very beautiful hoya!
By coincidence I discovered a rather long peduncle when I turned the pot right after new year and since then I have found two more peduncles. The first flowers opened during the night and when I came down to the hoya room the morning after and saw these really sweet beautiful pink flowers and stuck my nose into them... this is a hoya that has it ALL: lovely foliage, compact growth, sweet flowers and wonderful fragrance.
To view any of the pictures on this page bigger, click on them and they will open up in new windows.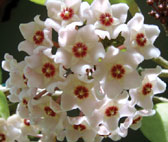 Read about how it all started
Why did I start collecting hoyas?

Private hoya links
Check out some of my favourite private hoya links from all over the world

Public hoya links
Here you will find public sites from all over the world, places to buy hoyas from etc.

Hoya forums
Here you will find links to different hoya forums on the internet.

Other great links
Here you will find links to search sites, garden sites, fun sites, crazy sites, and other "useful" sites.