I bought this hoya as a rooted cutting in August 2009 from a Hoya friend and then it was called sp. Square. It was a bad time to buy new hoyas since I knew I was moving, but I thought this was so cute I just had to have it! When I got it I liked it even more than from just seeing it in photos. The windows in my apartment was already filled with hoyas in two and three rows, so this little fellow (and some other new cuttings) stood on a tray next to my kitchen window until we moved into the house in November 2009. After moving in, all the little cuttings were put in one of the windows in our basement in a room without radiator... I checked every day in the beginning, but there was never too cold for them down there. Most of the cuttings stayed there and in the spring / beginning of the summer 2010 I repotted them and gave most of them small supports to climb on and for the first time my little Square started growing though it only had a stick to lean on!
Soon after the cutting started growing I noticed a small peduncle, but I never thought I'd see any flowers when it was still just a cutting! But, the buds kept growing and growing... I think I checked them several times a day and then on June 16, 2010 they opened. The flowers were even more beautiful than any photo I had seen. It started growing quite a lot after the first flowers and started to look like a nice little plant on its 25 cm high support... I noticed buds on two peduncles in the end of May 2011 and I hoped it would bloom in time for my hoya gathering / birthday on June 11, but it "waited" until June 12...
Some say this hoya is fuzzy when it comes to humidity and if you forget to water the leaves tend to shrivel quite fast, but I've never had that problem even though I've forgotten to water my hoyas in the basement... I think it's rather cool down there and perhaps also more humidity since we do / hang laundry in the room next to the hoyas. My little plant seems to like it there so I have no plans to move it and just the other day I noticed a third peduncle...
To view any of the pictures on this page bigger, click on them and they will open up in new windows.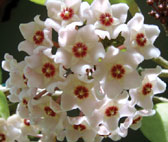 Read about how it all started
Why did I start collecting hoyas?

Private hoya links
Check out some of my favourite private hoya links from all over the world

Public hoya links
Here you will find public sites from all over the world, places to buy hoyas from etc.

Hoya forums
Here you will find links to different hoya forums on the internet.

Other great links
Here you will find links to search sites, garden sites, fun sites, crazy sites, and other "useful" sites.