I got this hoya in a trade in September 2002. It was an unrooted cutting and it took quite a while before it rooted, but when it did it grew faster than I had expected, especially in the beginning. The thin leaves hang down making the foliage look thicker than it really is.

My vitiensis grew its first peduncle in October 2003 and by accident I had a day off when the flowers opened. I had only seen pictures of these flowers before, but they looked even better in real life. I had perfect late fall morning sunshine when the flowers opened and I managed to get some really good photos of the flowers. Since then it seemed to have new flowers all the time... One time it flowered with both "normal" and yellow flowers at the same time! Why that happened? I have no idea, but they sure looked cool!

Personally I think this is a hoya that all hoya collectors should have in their collection!

To view any of the pictures on this page bigger, click on them and they will open up in new windows.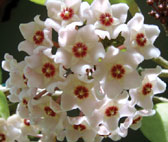 Read about how it all started
Why did I start collecting hoyas?

Private hoya links
Check out some of my favourite private hoya links from all over the world

Public hoya links
Here you will find public sites from all over the world, places to buy hoyas from etc.

Hoya forums
Here you will find links to different hoya forums on the internet.

Other great links
Here you will find links to search sites, garden sites, fun sites, crazy sites, and other "useful" sites.