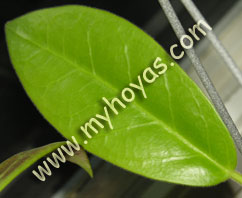 This hoya comes from Indonesia (Java) and it was described in 1848, or rather the Hoya albiflora was described in 1848 by Zipp. ex. Blume. This hoya reminds very much of Hoya magnifica, but this one is said to have a pleasant fragrance!
It's a climbing hoya with rather big light green pubescent leaves, about 10-15 cm long and 5-7 cm wide. The leaves have visible veins and they are pubescent on both sides. The leaves are rather soft and have no flecks. A rather fast growing hoya that needs a lot of space and likes to grow where it's warm.
The flowers are completely white, star shaped and almost flat. Each flower is about 4-5 cm and you'll find 5-15 flowers in an umbel. The fragrance is said to be wonderful, but I haven't found out what the fragrance is like... yet!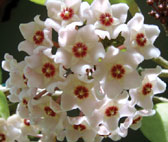 Read about how it all started
Why did I start collecting hoyas?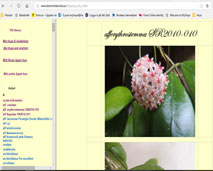 Private hoya links
Check out some of my favourite private hoya links from all over the world

Public hoya links
Here you will find public sites from all over the world, places to buy hoyas from etc.

Hoya forums
Here you will find links to different hoya forums on the internet.

Other great links
Here you will find links to search sites, garden sites, fun sites, crazy sites, and other "useful" sites.