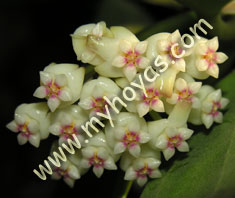 Hoya 'Christine' is a suspected cross between Hoya subquintuplinervis and Hoya pottsii, hybridized by Michael Miyashiro in Hawaii 1998. The leaves are thick just like on supquintuplinervis and it grows upright and compact. The leaves are a little pubescent on both sides and have very clear veins. The size of the leaves vary between 8-10 cm long and 6-8 cm wide.
The reflexed flowers have white corollas with pale yellow/brown tips and the corona is white with a pink circle around a yellow center. They produce large drops of nectar, have a very strong and nice fragrance. The fragrance is strongest early in the mornings and during evening/nights. The flowers last almost 2 weeks.
It's a pity that it isn't called 'Christina', but apparently it's named after Christine Burton, who is a lot more known than little me...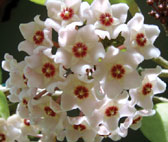 Read about how it all started
Why did I start collecting hoyas?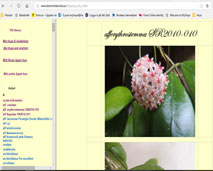 Private hoya links
Check out some of my favourite private hoya links from all over the world

Public hoya links
Here you will find public sites from all over the world, places to buy hoyas from etc.

Hoya forums
Here you will find links to different hoya forums on the internet.

Other great links
Here you will find links to search sites, garden sites, fun sites, crazy sites, and other "useful" sites.